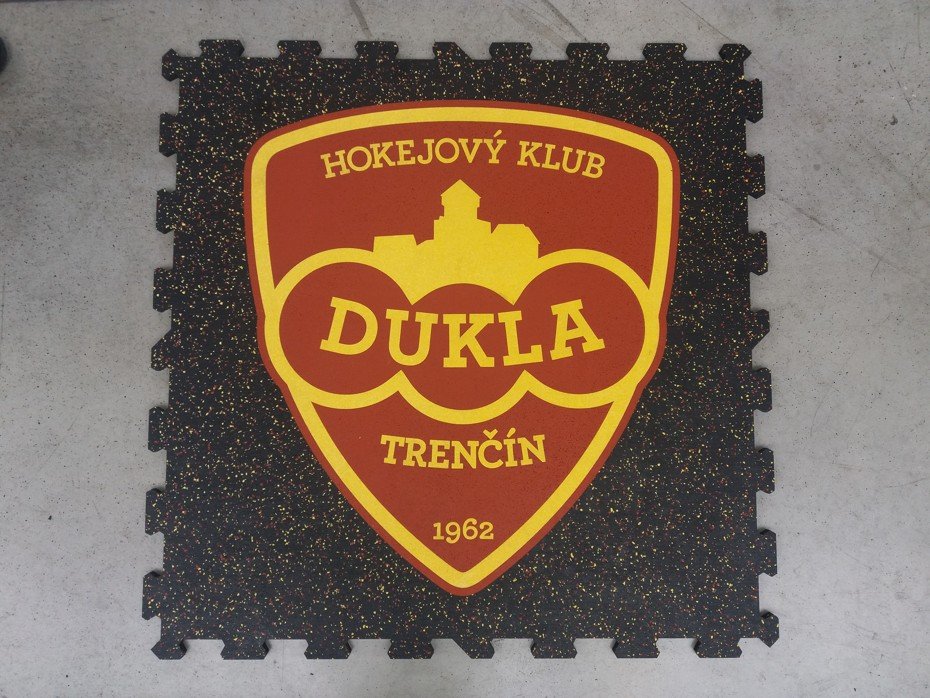 The whole project was covered by Tomáš Pospíšek from the sales department, who we asked:
Tom, what floor did you install for Dukla Trenčín?
It was a 200m2 puzzle 986x986x16 mm. The basis is a black SBR board - GELFLOOR ICE made of a mixture of rubber granulate SBR and EPDM, rubber chipboard and polyurethane binder. Dukla Trenčín chose a mix of their club colours, i.e. yellow and red, both in the amount of 5%.

Where can we find the floor in the club?
It is located in the changing rooms, in the corridors and on the players' bench.

Is it difficult to install such boards?
Not at all. In this case, the customer laid the floor himself (puzzle system with locks plus the cuts managed without any problems). However, if the customer wants installation services, we have a layer company that we can recommend.

Was this the first time that the flooring has been used at an ice rink?
No, there have been many installations at ice rinks. The floor has a wide range of uses, so we have laid the floor on a skating rink, in the winter stadium corridors, in the changing rooms, in the players' bench, on the stairs, and in a fitness club.

What are the advantages of flooring in ice rinks?

The flooring is highly resistant to damage from ice skates and does not blunt the blades. The flooring is resistant to water, frost and weather conditions. Reduces noise and vibrations.

A month has passed since implementation. Have you had any feedback on how satisfied the customer is with the floor?
The client is very satisfied. On 4th September, Dukla's season started with the opening of the stadium, including the presentation of the stadium modifications. The floor from Gelpo was a major part of the reconstruction. We are now negotiating with the customer about the lining for the hallway, which leads into the cabins. Players often go straight off the ice into the changing room in a furious mood and bang their sticks against the walls. The rubber that could cover the walls of the corridor would protect the walls from the emotions of the hockey players.
We thank Tom for the information he has given us and wish the whole Gelpo sales team many more successes and more furious hockey players.